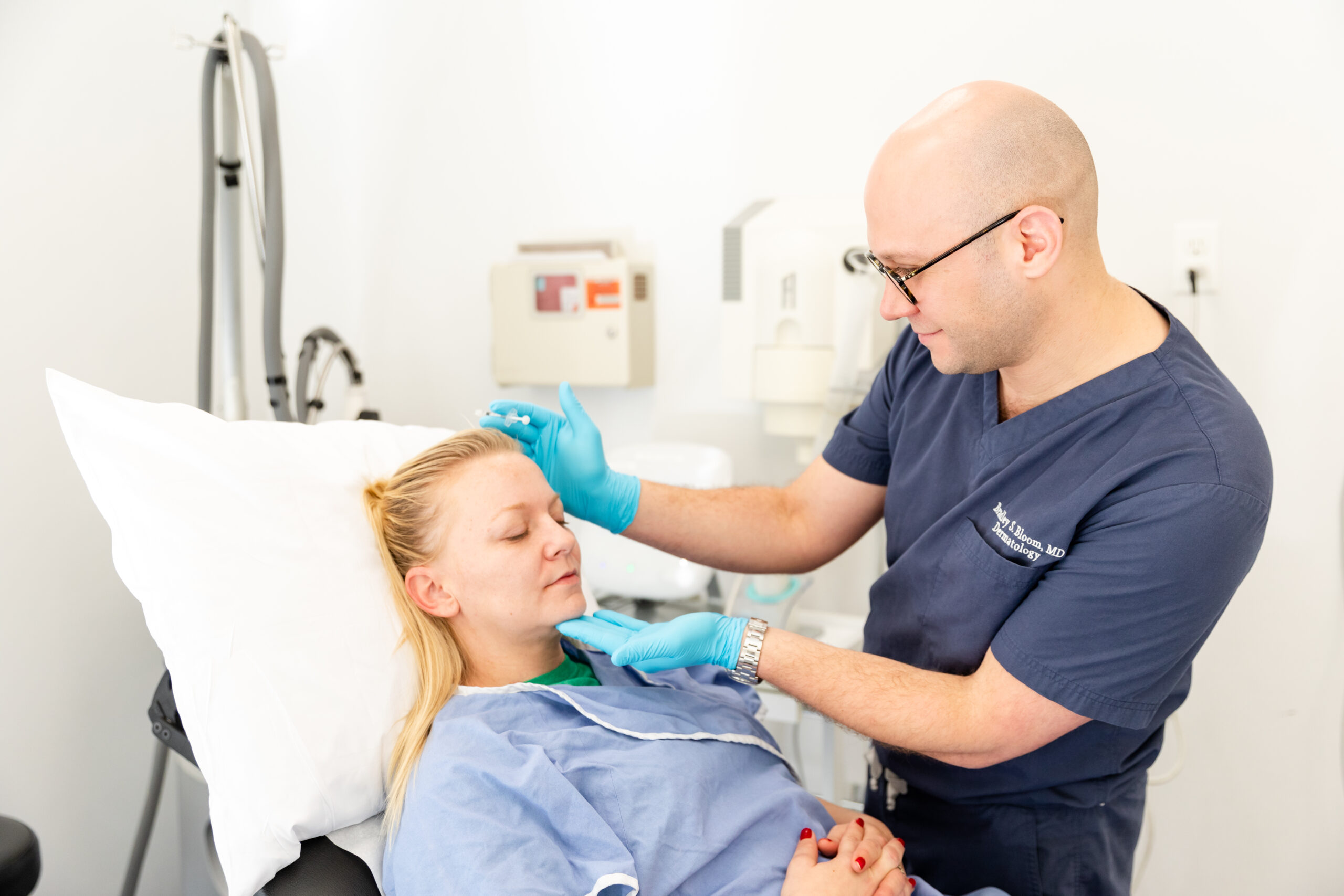 Collagen and elastin are essential to keeping our skin smooth, plump, and supple. As we age, however, our skin produces less collagen and elastin, causing our skin to lose both volume and elasticity. As a result, you will begin to notice early signs of facial aging in the form of fine lines and wrinkles or thinner lips. All of these signs can combine to make us look older and tired. Luckily, cosmetic treatments like dermal fillers can help us reduce the signs of early aging and restore our youthful appearance as people continue to live longer, healthier, and more active lives.
Board-certified dermatologist, Dr. Bradley S. Bloom understands the desire to look your best. We offer the latest and most effective age-reversing products and services to help you achieve the cosmetic results you desire.
Bellafill
Bellafill is a long-lasting dermal filler that is FDA-approved for the treatment of moderate facial wrinkles like nasolabial folds and certain types of acne scars. It is specially formulated with collagen and polymethylmethacrylate (PMMA) microspheres. This creates a matrix that supports and encourages the body's own production of collagen. One of the benefits of Bellafill is that it helps the skin naturally become firmer and more supple over time.
A Bellafill treatment works on two different levels. First, it provides the treated area with immediate volume and lift, which smooths away folds and the appearance of acne scars. Second, the PMMA microspheres gradually boost the body's ability to produce more of its own collagen, creating long-lasting and natural-looking improvement. Click here to learn more about Bellafill.
Belotero
Belotero is a hyaluronic-acid-based dermal filler gel. Hyaluronic acid is found naturally in your skin and helps maintain moisture and plumpness. Unfortunately, our body's natural production of hyaluronic acid diminishes as we age. Since hyaluronic acid is found in our skin, fillers made of hyaluronic acid are a safe and effective choice for adding volume and smoothing out the skin's appearance.
While Belotero does contain hyaluronic acid, like Juvéderm and Restylane, it has a different molecular construction that can create unique results. Belotero is thinner and creates much smoother results compared to denser fillers. Additionally, with certain fillers, there can be a risk of the Tyndall effect, a bluish tinge in areas with thin skin. However, because Belotero is a soft filler, it doesn't have the risk of this complication. Click here to learn more about Belotero.
Juvéderm
Juvéderm is a popular line of youth-boosting hyaluronic acid gel fillers that can provide our clients in New York with instant suppleness and volume. As well as rejuvenating the skin, a Juvéderm treatment can improve the early signs of aging. Click here to learn more about Juvéderm.
Volbella
Volbella was developed specifically to address cosmetic issues in the mouth area. Volbella can be used in both the lips and surrounding areas and has been FDA-approved to increase the fullness of the lips and also soften the appearance of fine lines around the mouth. Volbella produces dramatic and beautiful results and can be used for a myriad of cosmetic improvements. Click here to learn more about Volbella.
Vollure XC
Juvéderm Vollure XC is a dermal filler that's effective at treating moderate to severe facial wrinkles and folds. Vollure XC is the perfect choice to improve areas like nasolabial folds or parentheses lines. Not only does it provide noticeable and immediate results for these areas, patients will enjoy improvement for up to 18 months. Click here to learn more about Vollure XC.
Voluma
Juvéderm Voluma XC is a specially formulated hyaluronic acid dermal filler that is designed to improve lost facial volume to the mid-face and cheeks. It also contains a numbing agent called lidocaine in order to make injections as comfortable and pain-free as possible. It is a thicker and firmer dermal filler than other fillers on the market today, making it an excellent option for creating natural-looking volume and contours around the cheekbones. Click here to learn more about Voluma.
Restylane
Restylane is a cutting-edge cosmetic dermal filler is able to smooth and lift the skin in different areas of the face while still looking natural. This versatile age-reversing treatment can be used for a variety of cosmetic concerns, such as reducing folds or wrinkles, enhancing and sculpting thin lips, and improving facial contours. Click here to learn more about Restylane.
Restylane Lyft
Formerly known as Perlane, Restylane Lyft is an advanced-formulated hyaluronic gel that is injected into the cheeks to provide both volume and lift to the mid-face. Restylane Lyft is a power-house anti-aging treatment that provides cheek volume while also improving the contours and symmetry of the face for beautiful, natural-looking results. Click here to learn more about Restylane Lyft.
Restylane Silk
Restylane Silk is by far one of the best dermal fillers for the mouth area. That's why Dr. Bloom offers Restylane Silk for his patients in New York who are looking for a cosmetic treatment that can create dramatic but natural-looking improvements. It is the perfect choice for improving deep-set wrinkles, like smoker's lines, as well as improving lip volume and shape. Click here to learn more about Restylane Silk.
Schedule a Dermal Filler Treatment Today
If you want to restore the natural, supple appearance of your hands and face, contact Bradley S. Bloom, MD to see which facial filler treatment is right for you. Our dedicated team will create a comprehensive beauty treatment plan to provide the youthful results you desire, without any unnecessary downtime.
Next, learn about the collagen stimulators offered at our center.