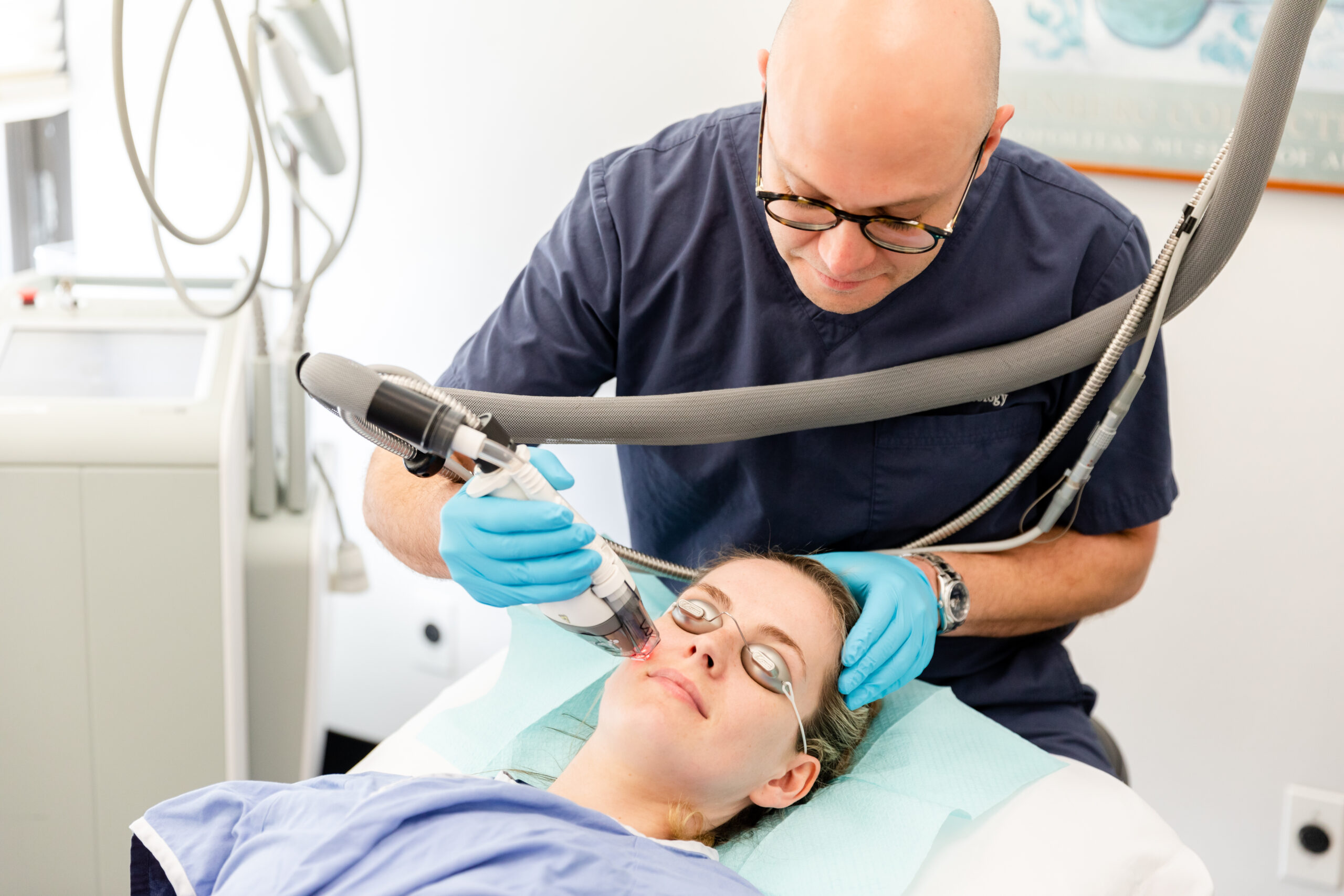 Bradley S. Bloom, MD offers a variety of treatment options and aesthetic techniques that take into consideration patients' skin type along with their desired results. Different skin types and tones have diverse dermatologic needs and concerns. Dr. Bloom opened his practice in New York to offer the most advanced medical technologies and cutting-edge cosmetic treatments available that are suitable for all skin types. With a national and international reputation in medical and cosmetic dermatology, Dr. Bloom is your NYC specialist in skin rejuvenation.
As an expert in lasers, dermal fillers, and other breakthrough cosmetic treatments, Dr. Bloom can address your skin's unique needs and reverse the signs of aging without the need for invasive procedures. Using the most advanced cosmetic techniques, Dr. Bloom's practice is the ultimate skin rejuvenation destination, providing patients of all skin types and ages with gorgeous results that keep them youthful and radiant without the need for surgical intervention.
Beautiful Skin at Any Age
While it may seem like you're sometimes having a bad skin day, the truth is your skin's needs change as you age. From hormonal changes to hydration needs, it's important to work with a cosmetic dermatologist that understands your current skin's needs.
The 20's
For most people, it may seem like they have their best skin in their 20's. For example, estrogen peaks in women during their 20's, giving most women their best complexion. However, a shift in the level of hormones, like estrogen, can lead to enlarged pores and adult acne. In addition to using appropriate medical-grade skin care, lasers, and peels to help improve adult acne, cosmetic dermatologists can help younger patients begin an anti-aging regimen with light Botox treatments along with fillers to improve facial volume with a completely natural aesthetic.
The 30's
In the 30's, most people begin to experience a dip in skin-tightening collagen and elastin along with skin-plumping hyaluronic acid. Cell turnover also begins to slow, meaning the skin doesn't bounce back as fast from bouts of dryness, inflammation, or acne. With an increase in a dryer, thinner skin, more obvious traces of expression lines appear on the forehead and around the eyes. It's important to ramp up your anti-aging routine at this time. Medical-grade skin care with retinol, peels, lasers, and microdermabrasion, along with Botox and fillers, can begin to slow the clock on facial aging.
The 40's
It may seem like your skin changed overnight once you enter your 40's. In the 40's, most people experience less firmness, elasticity, and moisture in their skin, causing significant drying, dullness, hollowing, and more visible wrinkles, capillaries, broken blood vessels, and age spots.
In addition to a comprehensive at-home skincare regimen, it's time to upgrade anti-aging treatments to include innovative cosmetic treatments like Sculptra to rebuild collagen along with fillers to restore facial support and volume, combined with Botox for fine lines and wrinkles plus lasers to improve texture and tone.
The 50's & beyond
Our skin continues to lose collagen during our 50's. In addition to reducing our skin's ability to bounce back, inflammation also peaks, making our skin more vulnerable to damage from the sun, smoke, and pollution. Overall, the skin thins, dries, deflates, and gets looser. Fine lines will become deeper as pores enlarge and the under eyes and cheeks begin to hollow. In addition, spider veins and age spots begin to appear. Skin care must include adequate hydration along with cosmetic treatments, like lasers and microdermabrasion, to improve texture and tone while fillers and Sculptra can replace lost facial volume.
Trust Your Skin to Dr. Bloom
Asian
When choosing a practitioner, it's important to find a cosmetic dermatologist that can create a personalized, comprehensive treatment plan to address restoring skin health and specific skin conditions for people of Asian descent that take into account their individual skin tone and concerns, like dark spots or hypopigmentation. Dr. Bloom specializes in the best treatments, like lasers and microdermabrasion, suitable for all skin care types and conditions
African American
Dr. Bloom provides patient-forward care for skin conditions common to people of color. From improving skin tone to reducing facial wrinkles, Dr. Bloom takes patients' skin type into consideration when creating a comprehensive treatment regimen using cutting-edge techniques like lasers, chemical peels, and microneedling. Dr. Bloom has extensive experience treating even the darkest skin types.
Latino
Known for offering a range of cutting-edge cosmetic treatments, Dr. Bloom is an expert at treating patients with darker or olive complexion in the Latino population. The Latino community is multi-cultural and because of this, special care is needed to address the diverse needs in terms of skin care and cosmetic treatments like medical-grade peels or lasers.
Middle Eastern
The most important factor in caring for Middle Eastern skin is understanding its unique characteristics to ensure skin conditions are correctly diagnosed and cosmetic concerns can be successfully improved. Dr. Bloom specializes in the treatment of Middle Eastern skin and creates customized treatment plans utilizing advanced techniques such as lasers, peels, and microdermabrasion to help restore your skin's radiance. From Middle Eastern to East Indian, Dr. Bloom has extensive experience treating all skin types.
Schedule a Consultation Today
Contact Bradley S. Bloom, MD to schedule a consultation. Trust your skin to an expert who will create a comprehensive, cosmetic treatment plan using the latest, innovative techniques to meet your skin's unique needs and revitalize your appearance.
Next, read about face and neck treatments.