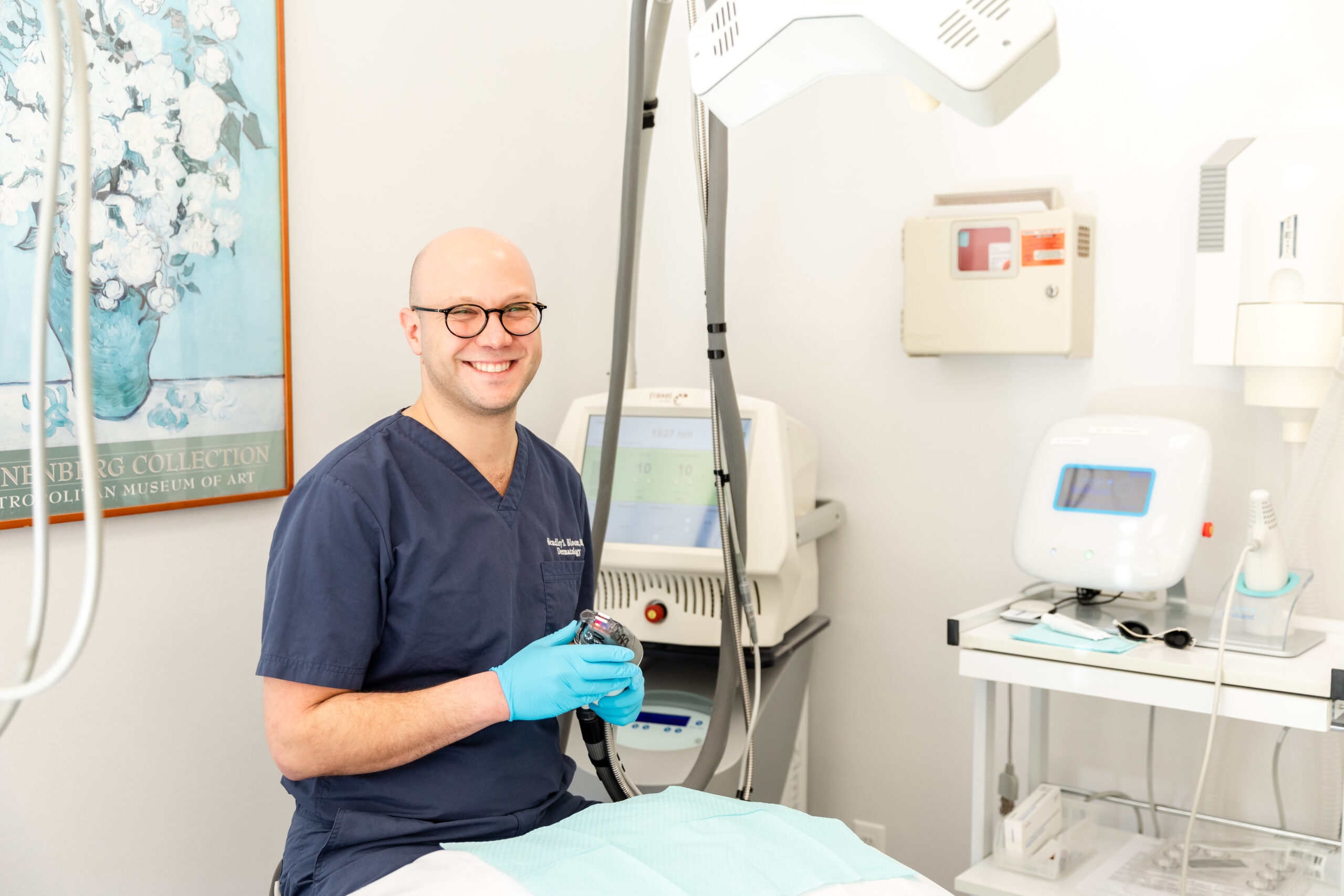 Dr. Bradley S. Bloom, MD in New York City uses the latest, innovative technology to deliver advanced non-invasive laser treatments for a variety of beauty and cosmetic needs. Gone are the days of needing invasive surgical procedures that are uncomfortable and require lengthy recovery times. Laser treatments provide our patients with faster, longer-lasting results, giving focused treatments for a myriad of skin conditions and aesthetic concerns.
Recognized as a leading authority in laser treatments, Dr. Bloom creates a customized treatment plan for each patient using the best laser suited to your skin type, combined with other cutting-edge techniques, like microdermabrasion and fillers, to deliver radiant results.
Dr. Bradley S. Bloom has over 45 different lasers to be able to meet the diverse needs and skin types of our patients. Whether you want to reverse the signs of aging or would like to even out skin tone and pigmentation, laser procedures are a great choice for long-lasting results.
Laser Treatments for Luminous Skin
Blue Light Acne Treatment
Unlike topical treatments that work to reduce inflammation and bacteria on the surface of the skin, blue light treatment eliminates the acne-causing bacteria within the oil glands before they can become clogged and result in redness and inflammation.
Enlighten Laser Tattoo Removal
Removing a tattoo from your skin is a complex process that needs the most advanced laser technology in order to be effective. The Enlighten Laser tattoo removal treatment offers patients better results with less discomfort and fewer treatment sessions.
Fractional Laser Resurfacing
For patients that are looking for full facial rejuvenation, look no further than fractional laser resurfacing. Fractional laser resurfacing provides maximum results in just one treatment and can improve fine lines and wrinkles while improving texture and tone.
Forever Young BBL
Forever Young BBL is the go-to choice for maintaining healthy, glowing skin. The Forever Young BBL treatment doesn't only repair aging skin, it can actually halt and prevent further skin aging down to the gene level. This is a wonderful treatment for a myriad of skin conditions like acne, rosacea, sun damage, and texture problems, such as fine lines, wrinkles, or enlarged pores.
Skin Smoothing and Tone Improving Lasers
Aerolase LightPod Neo
Versatility personified, the Aerolase Lightpod Neo can be used for a broad range of medical and aesthetic applications. From skin conditions, like acne or rosacea to laser hair removal, the Aerolase LightPod Neo is tan an amazing treatment option.
E-Matrix
E-Matrix is one of our gentlest resurfacing technologies, offering a gentle alternative to resurface the skin in just 4-5 treatments. E-Matrix gives patients gorgeous results without the lengthy downtime associated with more aggressive, ablative procedures.
PICO Genesis™
Originally designed for tattoo removal, the PICO Genesis™ laser is an advanced alternative to improve pigmentation issues and provide skin revitalization with minimal to no downtime. What sets the PICO Genesis™ apart from other laser resurfacing methods is that it delivers a brighter, more uniform complexion with fewer treatment sessions and almost no downtime compared to traditional methods.
Halo™ Hybrid Fractional Laser
The Halo™ Hybrid Factional Laser is a power-house laser treatment that uses a combination of non-ablative and ablative wavelengths to repair the visible signs of aging, sun damage, discoloration, enlarged pores, and uneven skin tone with just 1-2 treatments.
Repair Skin Tone with Dr. Bloom
IPL/BBL
Get clear and radiant skin with IPL (intense pulsed light)/BBL (Broad Band Light) technology, which can be used for diverse needs like laser hair removal or skin rejuvenating photofacial treatments. Using a range of wavelengths that target red and brown spots, IPL/BBL is a great choice for restoring an even, brighter appearance.
Excel V
If you suffer from facial redness or bothersome "broken blood vessels", Excel V is your answer! Excel V uses state-of-the-art cooling technology to give patients a safe, comfortable treatment that can effectively eliminate broken blood vessels, rosacea, vascular birthmarks, spider veins, sun spots, and more.
Excimer
The Excimer laser offers topical targeted phototherapy treatment for patients with pigmentation problems. This pigment correcting treatment can improve a wide variety of skin conditions, from hypopigmented scars to stretch marks.
Schedule a Laser Treatment Today
Contact Bradley S. Bloom, MD to schedule a laser skin treatment. With an evaluation, Dr. Bloom will determine what laser is appropriate for your skin type and create a comprehensive plan to meet your aesthetic and cosmetic goals.
Next, read about Body Contouring.